So you're thinking about popping the question – congratulations!
Now that you've found "the one", it's time to look at engagement rings. There's so many options! But don't worry, we can guide you on everything you need to know about designing a gorgeous, custom engagement ring. We're kind of experts on this 😉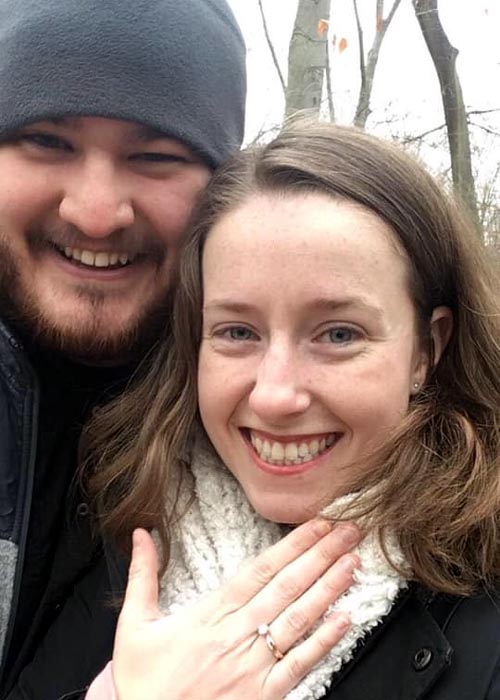 Let's Start With The Center Stone
There are so many things to consider when it comes to the center stone of a custom engagement ring. Diamond or colored gemstone? Mined or lab grown? What about the shape of the stone?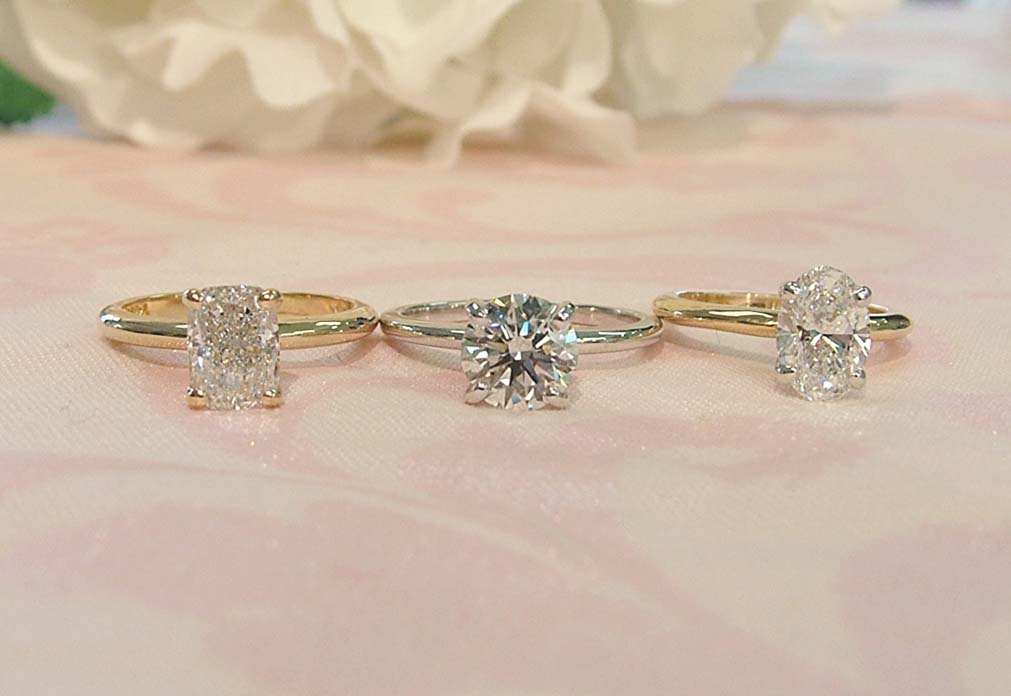 If you haven't already talked about an engagement ring with your partner, lurk on her Pinterest page or talk to her bestie and get some intel!
Also, it's time to look at your budget. The adage "an engagement ring should cost two month's salary" is old news. We say, budget for what you can reasonably afford! No one needs extra debt for a ring, there's plenty of ways to make affordable custom jewelry.
Diamond Or Gemstone?
Believe it or not, engagement rings are a relatively new trend in the United States. According to Bride's Magazine, "diamond engagement rings didn't become popular until 1947 when De Beers, the British company that mined diamonds in South Africa, launched an advertising campaign. With the help of Hollywood stars and the slogan "a diamond is forever," diamond engagement rings skyrocketed in popularity for the first time since their appearance stateside in 1840."
Today, couples have even more choices when it comes to custom engagement rings. Diamonds mined from the earth are one option, but gaining popularity, especially with Millennial customers, are lab grown diamonds.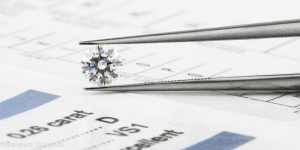 Exactly the same as mined diamonds in their shape, quality and size, lab grown diamonds offer an eco-friendly conflict-free choice as a center stone with the added value of costing 70-80% less than mined diamonds.
When you purchase a lab grown diamond from Scott's Custom Jewelers, you'll not only get a great, high quality, very affordable stone, but your purchase allows Scott's to donate, from our profit, $100/carat of each stone sold, to The Dublin Food Pantry.
But if a diamond is not your vibe, then a beautiful colored gem is an awesome center stone too!
In fact, sapphires, rubies and emeralds were the gem of choice for engagement rings before diamonds became popular. Plus, many colored stones are available in both mined and lab grown varieties.
Stones To Avoid In A Custom Engagement Ring
With so many colored gemstone options, there are some stones you should avoid because they aren't tough enough to withstand the daily wear and tear of an engagement ring.
Emeralds. Mined varieties are expensive(!) and fragile, but lab grown emeralds offer the same color at a fraction of the price.
Opals. The saying that it's bad luck to wear an opal if it isn't your birthstone (October) came about because of how often these gems broke! Opals actually can dry out and become very brittle; not the best choice for a ring.
Aquamarines. Made from the same material as emeralds, aquas are also very soft gems and prone to breaking and scratching.
Morganite. The soft peachy pink color is so feminine, it's no wonder it's shown on so many Pinterest boards. But these gems also scratch very easy, and a scuffed up morganite is not a good look!
Moissanite. Before the super affordable lab grown diamonds hit the market, moissanite was the inexpensive alternative to mined diamonds. But these stones are so hard that when they get hit, they break off in BIG chunks, and they can't be recut!
Let's Talk About The Band
And we don't mean Twenty-One Pilots (although huge shout-out to the Columbus, OH natives!). We're talking the ring band.
Whether you want a simple, 14k yellow gold solitaire style engagement ring, a vintage inspired vine ring or even a bold contemporary statement piece, we can find your jewelry style and bring it to life with our cool CAD (computer aided design) technology and 3D printers.
Solitaire Engagement Rings
We keep seeing this on Etsy: super thin, lightweight solitaire engagement rings holding ginormous gemstones. A very dainty look for sure, but one that probably will break before your 1st anniversary.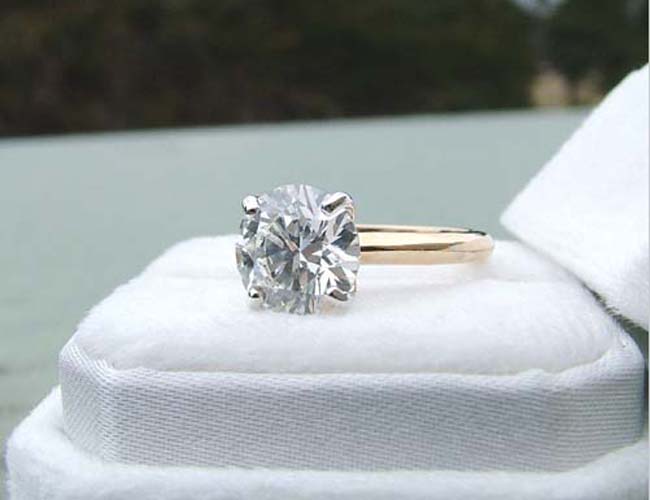 By definition, a solitaire engagement ring is a ring that features one center gemstone. There are no other diamonds or gemstones anywhere on the ring, and the band is typically plain with no pavé diamonds.
But there is a way to get that thin look without sacrificing strength. It's called "jewelry magic." JK, it actually involved math, and we make these pretty rings all the time! Solitaire rings can be in any color of gold too – yellow, white and rose.
Diamond Accented Ring Bands
Again, there are so many options if you want some added bling on your ring. A timeless classic, the 3-stone ring is gaining popularity, as well as diamonds cascading down the band or woven in an organic, leafy pattern.
Contrasting diamond shapes are also in vogue, like an oval shaped center stone with triangle shaped diamond accents. There are tons of combinations and you can even chose lab grown diamonds for the sides.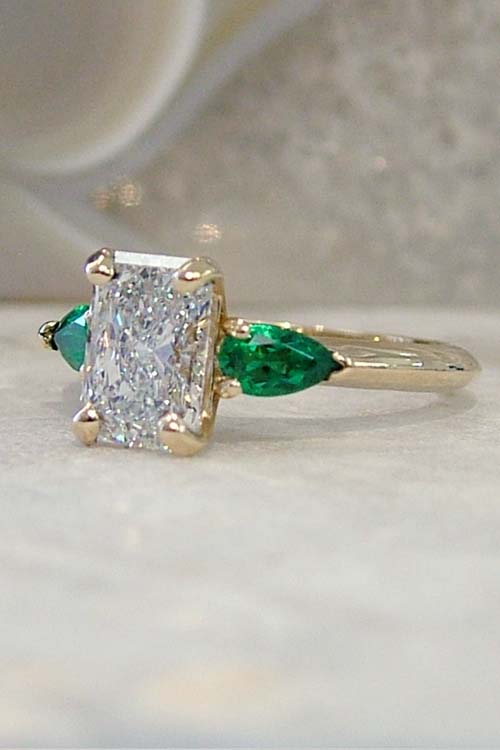 Plus, with a custom designed engagement ring you can repurpose diamonds from family jewelry into the band and really add to your jewelry's story.
How Scott's Makes Custom Engagement Rings
For some stores, offering custom engagement rings can be kind of pricey. These stores have to outsource this service and the results aren't always what the customer envisioned.
But since Scott's specialized in custom designs (it is our middle name), we've honed the process into a very easy, very satisfying process. Don't believe us? Check out what our customers have to say!
"Every time I wear the ring Scott's created for me, I catch myself staring at it. I LOVE it – it's exactly what I wanted. The team at Scott's is kind, professional, skilled and accommodating. Thanks to their creativity and expertise, the heirloom items I brought to them were given new life and transformed into modern, tasteful designs."

-mm
When you design a custom engagement ring at Scott's, you'll work directly with the designers (there are 3 of us!) to flesh out your vision. Need some help? No worries, we have tons of designs to inspire you.
After you meet with our staff we'll work our magic and produce actual pictures of your piece from all angles that we'll send to your email. Need to made changes? Not a problem, and no extra fee either.
Once you like your photos we'll make an actual model of your engagement ring using one of our 3D printers. We'll even paint the model the color of your gold and place your gemstones into it so you can see what the finished item will look like. Want an adjustment? Again, no problem!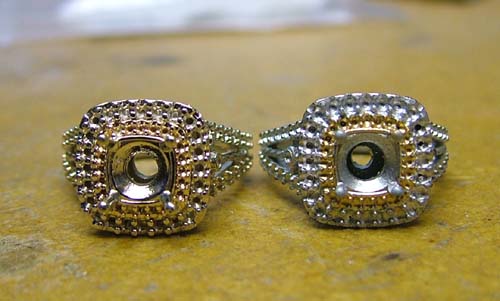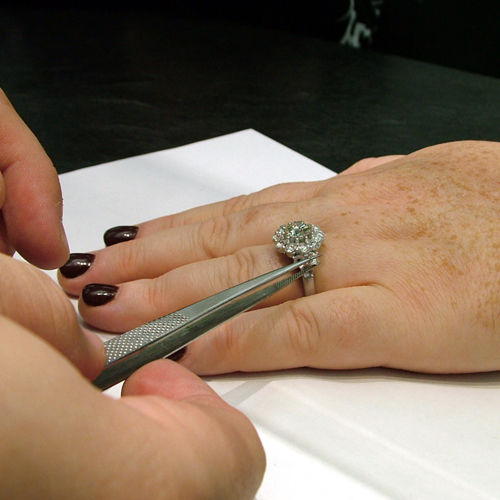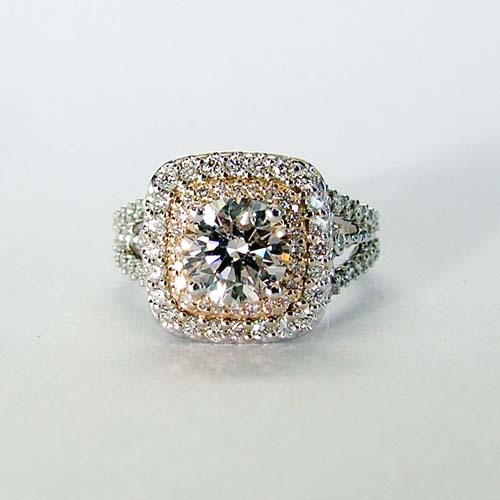 After you've okayed your custom design we'll cast the piece and set all the stones right here in our Dublin, Ohio jewelry store. And the best part: from start to finish we can make a custom ring in as little as two weeks!
It's Easy To Design A Custom Engagement Ring At Scott's!
Making custom jewelry is Scott's specialty! We've worked very hard to streamline the process and make it as easy as possible to help our customers bring their engagement rings to life!
As an added bonus, if we make your engagement ring we'll give you $200 off EACH of your wedding rings too! Want to learn more? Click below.